Clean Bathroom Tub and Sink Drains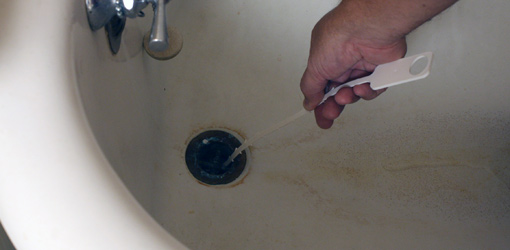 Over time, hair and debris can build up in your bathroom drains, impeding the flow and causing water to back up into your tub or sink. Not only is this unpleasant, but it also lets dirty water to stand in your sink or tub, allowing mold and mildew to grow both in the basin and in the pipes.
To clean a tub or sink drain, you'll first need to remove the drain assembly and any drain grates covering the drain opening. Clean these with an old toothbrush and paper towel.
Next, insert a plastic drain stick into the overflow drain, then again in the main drain. A drain stick is about two feet long and is barbed or bristled to remove hair and gunk inside the pipe. Work the stick-up and down, then carefully draw out debris and wipe it off with a paper towel.
Once the drains are clear, pour a cup of bleach down the drain, and let it sit for 10-15 minutes to kill any mold and mildew in the pipes. Finally, flush the drain thoroughly with hot water, and reinstall the drain assembly and grate.