Adventures in Home Owning: Holiday Fire Safety Tips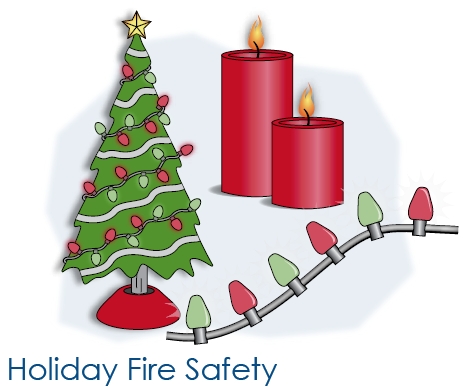 Dear Homeowner,
As the holidays approach, we all look forward to the spirit of the season which wraps itself in garlands around our streets, and carefully strings lights around our homes. Trees are cut down, blankets brought out, candles lit, and cups of cocoa poured. It is a time for family and friends, fireplaces and warmth, and with all these changes taking place in and around our homes, it is also a time to educate and familiarize yourself with household fire safety tips.
So many of the wonderful things about the holidays: Christmas trees, electric lights, fireplaces, and candles, can also be the source of devastating fires and household damage. In order to keep your holidays merry, bright, but not alight, we've compiled some useful fire safety tips that can be observed, not just around the holiday season, but all year long.
If your family celebrates using a Christmas tree, this will be one of the most fire-prone objects in your home. Fire prevention starts even before the tree has been brought home. When selecting a tree, be sure to choose one that has fresh, green needles that do not fall off easily when brushed or shaken. This indicates a tree that has not completely dried out. If it is a pre-cut tree, or even if you cut it yourself but leave it outside for a few days, make sure to cut about two inches off of the trunk before bringing it indoors and mounting it in a stand. This will ensure that there is a fresh cut at the base which will soak up the water that is poured into the stand. A Christmas tree should be watered daily in order to ensure that it is kept fresh, green, and soft.
When it comes to decorating the tree, take the time to inspect any lights that will be strung upon it. Any broken or frayed cords should be tossed out, and damaged bulbs replaced before stringing the tree. Make sure the outlet connecting the lights to the power source is well away from the tree-stand where water will be poured daily, and make sure that the tree is situated away from major heat sources, such as a heating unit or fireplace. Keep an eye out for flame-resistant or retardant ornaments to decorate your tree with, and never place live flame near a Christmas tree.
Some additional safety tips to follow during the holiday season include never leaving a candle burning or food cooking unattended. A pre-holiday inspection of your fireplace and your fire alarms is a good routine to get into to prevent issues. Finally, ensuring that a fire extinguisher is accessible and in a location known by all members of the household is essential to fully prepare your home and loved ones for the possibility of a fire. By taking these precautions you will be entering the holiday season with safety, as well as good cheer.
Until next time, homeowner!