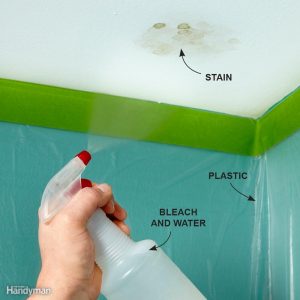 Before you go through the trouble of repainting a ceiling to get rid of a water stain, try this trick.
Spray the spot with a bleach and water solution (10 percent bleach), and wait a day or two. If it's an old stain, use a mold and mildew remover from the grocery store.
You'd be surprised how often the stain disappears by the next day. It works on both flat and textured ceilings.
Wear safety goggles, and make sure you protect the walls and floors with plastic.