Adventures in Home Owning: DIY Decorating your Home for Fall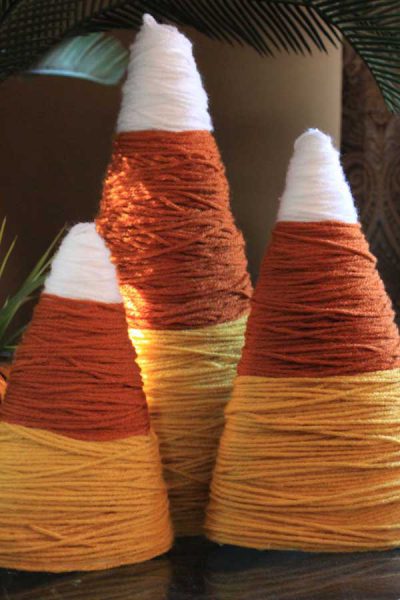 Dear Homeowner,
I know, I know. Last week we gave you yet another list of "to do's." And, as important as these tasks are for the upkeep and longevity of your home, homeownership can't be all work and no play. So this week we're giving free reign to have some fun with do-it-yourself decorations that will help you and your home celebrate the fall season. From a haunted Halloween house to a more festive, friendly feel, we'll give you some starter ideas for simple projects that can bring some spook and some spice into your home.
Looking for some fun ways to prepare your home for the onslaught of Trick-or-Treaters lining up for October 31st? Make some do-it-yourself crafts from the work you've already completed. Those leaf piles you've raked and set aside for the colder months can make great accouterments to your newly cleared lawn. Using small white trash bags you can put a small amount of leaves in one end, tie it off with some twine or twist ties, use a sharpie to draw some ghoulish eyes and a gaping mouth on each and you will have a gathering of ghosts ready to be hung from a garden tree or grouped on hedges and bushes.
Looking to add some festive flair to your porch or doorways for those Trick-or-Treaters? Make a spooky doorway drape by using a large black trash bag that has been cut open alongside and bottom. Using a pair of sharp scissors, you can cut along the length of the bag in one to two-inch strips. Make sure to stop cutting a few inches before you reach the far edge of the bag so that you'll have something to attach it to the door with. Once you have successfully cut the bag into strips, feel free to pull gently on them so that they stretch and distort. Some will be longer or shorter, and thinner or thicker than others. You can then attach this newly made drape to a doorway or along a porch where it will rustle and drift in the wind.
For more classic looks feel free to purchase swatches of cheesecloth that can then be sprayed with freshly steeped tea to become distressed and stained. These can be hung over windows or draped on top of tables and chairs. Porches can be scattered with pumpkins and gourds, painted or unpainted. And armed with a collection of Mason jars and a hot glue gun, you can create seasonal candle holders by filling the jars with acorns, pinecones, and artificial berries. If you'd rather not use a live flame in these pieces you can fill them instead with small, battery operated fairy lights that can be found at your local craft store.
There is a wealth of decorating knowledge to be found upon the internet, so once you've gathered some ideas feel free to fire up the browser, pour a glass of apple cider, and get to decorating!
Until next time, homeowner!